We had done successfully 4 surgeries of my grand father at maninagar devsaya. Both kidneys have stone, for it Holmium laser treatment given. For Gall ...

Hey my name is rohit majgul . I am judo international player, but during my training days i have stones in my kidney then my dr. Sapan pandya sir sugg...

Professional treatment Excellent service Nice and helpful team Highly recommend if you need

We got best treatment for bladder stone Best latest technology of stone is holmium laser Best team of urologist of Gujarat here Best experience of Sur...

We got best treatment of my relative for ACUTE PANCREATITIS. My relative , age 18 having pain and came for treatment in emergency, Best hospital and s...

I recently had the opportunity to visit Devasya Kidney Hospital, and I must say that it left a remarkable impression on me. From the moment I stepped ...

I got admitted here due to immense pain in my back n lower abdomen. After diagnose, I found out one of my Kidney stone got stuck in the urinary tract....
Place is really good. Hospital is getting cleaned 4 times a day. Doctors are friendly. Rooms and bathroom are well maintained. Every room has saparate...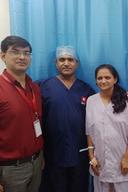 The hospital service, staff, treatment and doctors are way better than expectations. I would recommend this place to everyone . I feel super lucky t...

Devasya hospital.... Incredible team efforts and staff workmanship. All doctors, nurses and staff members are well experience. I appreciate hard work ...
Improving The Quality Of Your Life Through Better Health.
Our goal is to deliver quality of care in a courteous, respectful, and compassionate manner. We hope you will allow us to care for you and to be the first and best choice for healthcare.
We will work with you to develop individualised care plans, including management of chronic diseases. We are committed to being the region's premier healthcare network providing patient centered care that inspires clinical and service excellence.